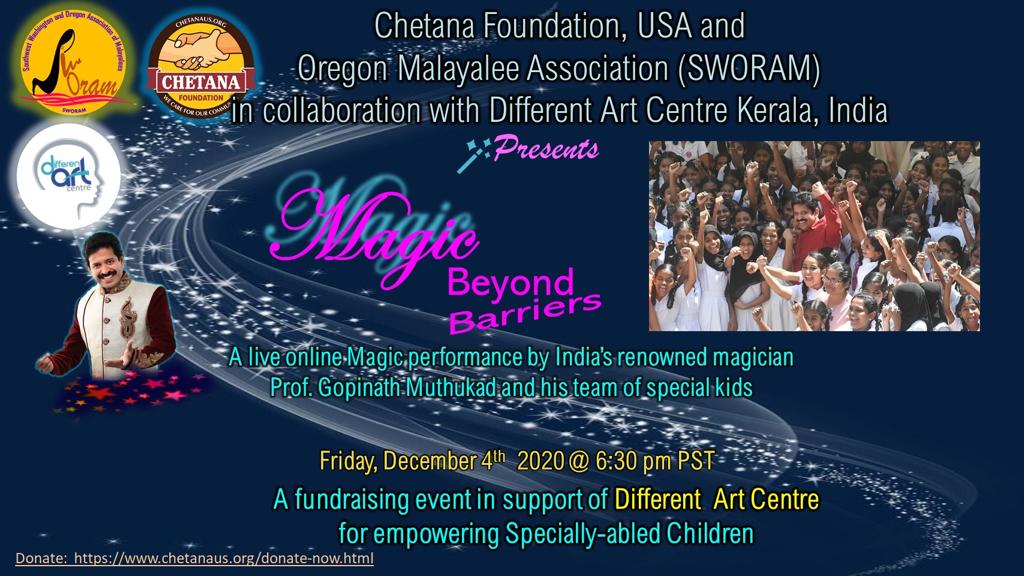 SWORAM in partnership with Chetana Foundation Portland , Kerala Association of Washington, ORUMA Los Angeles, Care&Share Chicago and Stand With Kerala Dallas, are pleased to host Mr. Gopinath Muthukad and team for a fun filled evening of magic and entertainment.
This is a FREE event. We encourage everyone to make a donation towards the Different Art Center. All donations will go towards the basic necessities and education of the kids at the DAC. For tickets, please register at the event page.
How to make a donation:
1. You can donate to the Chetana Foundation, a 501(C)(3) charity at https://www.chetanaus.org/donate-now.html
Please put the word "magic" in the notes field of the paypal page.
If your employer matches donations, please remember to get a receipt and submit a match request in your employer's donation matching tool.
2. For employees of Intel, Microsoft, Nike etc. , we have set up a Benevity project called "Chetana Magic Beyond Barriers – Covid -19". Please make a donation directly to this project.
How to attend the show:
Click on the Register button on this event page and enter your email. You will receive a live stream link before the event.
Please use only one registration for one family. Please encourage your friends to register, rather than forwarding the live stream link. This allows us to plan for enough capacity on the live stream link.
For any additional information, please contact us at sworamportland@gmail.com or chetanapdx@gmail.com
About the show
Professor Muthukad, is a world renowned magician from the Indian state of Kerala. He uses magic as a medium to advance various social causes and missions. A master illusionist and escapologist, he was bestowed with the 'International Merlin Award' (an award equals to Oscar in Magic) in 2011 by the International Magicians Society. He has been conferred "Celebrity UNICEF Advocate" status to join the efforts of the UN agency in improving condition and status of children in the state.
The event is a fundraiser in support of the differently abled students of Prof. Muthukad's Different Art Center.
Prof. Muthukad started this school with the intention to empower and educate 100 specially abled children. The school aims to provide education for these kids and also training in magic and other art forms, which have shown to have a huge positive impact on their intellectual development. He also tries to provide the kids (most of whom are from financially struggling families) with a stable income.